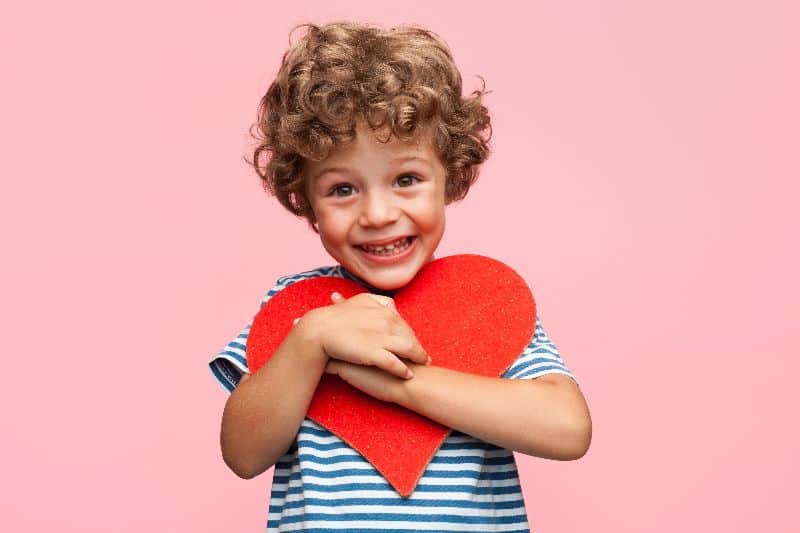 Happy Valentine's Day from TFI!
Prior to Covid-19, Valentine's Day was an exciting time for our children. They could share treats with their daycare friends, exchange adorable Valentine's cards with their elementary school classmates, and show their adoration for their high school crush by slipping a note into their locker. While lockdown restrictions have changed the way we interact with one another, they do not have to mean an end to the celebration. Here are a few great ideas for Valentine's Day you can do at home with your children to keep the Valentine's Day fun flowing!
Host a Virtual Valentine's Day Party: Parents can coordinate with one another on décor, treats and gifts for their children to have during an online Valentine's Day party with their friends. One parent is the designated "host" to provide music and lead the activities for the group. Décor can be both tangible, touchable ornaments and virtual backgrounds for each family to use. Children can consume their treats and open their Valentine's Day cards together. One unique idea is to set up a mailbox for each child where they can email virtual Valentine's Day cards to one another, to be opened during the celebration!
Virtual Dinner Date: For our older teenagers, food delivery services can be utilized to send a Valentine's Day meal to that special someone so they can virtually share a meal together. Just like the Virtual Valentine's Day Party, a virtual dinner date can go a long way towards maintaining that important connection for them. As always, parents are encouraged to participate in this process and supervise their young Cupids appropriately!
Family Valentine's Night: Finally, a great way to keep the Valentine's Day spirit alive while we are all staying close to home is a fun, family movie night. While our children are not likely to want to sit through a mushy, romantic film with their parents or caregivers, a fun, heartwarming family film is the perfect choice for Family Valentine's Night at home. Pick an age-appropriate film that everyone can enjoy, set out the candy hearts and popcorn, and enjoy!
As parents and caregivers, we all understand the struggle over the past year to keep our children entertained while we stay safe at home. Try out these ideas for keeping Valentine's Day safe and fun for your entire family.
Kansas Care Provider of the Month
Russell and Linda Groenendyk have been fostering for 20 years this year and have now fostered 104 children. They have impacted the lives of several children they have taken into their home. They are positive role models, set good examples for the children, provide consistency and structure yet take the time to allow the children to be children and have fun.
Russell and Linda are amazing foster parents. They have dealt with about every behavior throughout the years a child can display and have been patient and understanding through it all. They have traveled more miles than one can count getting kids to appointments and visits yet continue to do it knowing it helps the child and the workers out.
They have established numerous relationships over the years with parents and families and kept relationships with children that have resided in their home and continue to be a support for some of these connections. Thank you Russell and Linda for all the time you have given to children over the years, for making sure they have a stable loving environment and that they feel part of a family and thanks to your own children for giving up part of their time over the past 20 years with you so other children could feel loved and have a safe place to call home.
Oklahoma Care Provider of the Month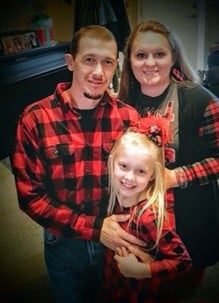 Jared and Elizabeth Gavit have been fostering with TFI for approximately two years. They provide long-term care to children in need. Jared and Elizabeth bridge with the biological families and are willing to do whatever they can to assist a smooth transition into reunification. Elizabeth has been a source of support and comfort for the biological mother of a child placed in their home. They provide for the child and ensure he has everything he needs for when he returns home to his mother, including, clothing, shoes, bedding, toys, etc. Jared and Elizabeth wanted to make sure the child had everything he needed, so that his mom did not have that burden to bear in hopes that this would allow her to be able to focus on her relationship with her son. TFI is certainly blessed to have foster parents like Jared and Elizabeth on our team!

Oklahoma News
Mark your calendars for our upcoming event: Foster Parent Monthly Support Group Meeting will be held at 6 p.m., Tuesday, Feb. 23. You will receive a 1-hour training credit and have a chance to win a prize just for attending. We will update you on any changes to policy or procedure related to TFI and/or OKDHS. Please plan on attending.
We are also in the process of planning our annual foster parent retreat, which will be held in May 2021. We are excited to offer the retreat this year virtually and this will provide valuable training and required annual training hours for those in attendance. Stay tuned for more information regarding this event.
Training Corner
Hair & Skin Care
When a child comes into state custody due to safety or neglect issues, they may not have received training in proper hair and skin care. This information provides some basic hair and skin care principles for children of African American descent.
Read the article below, fill out the quiz and send to your worker for credit. 
Want More Learning Opportunities?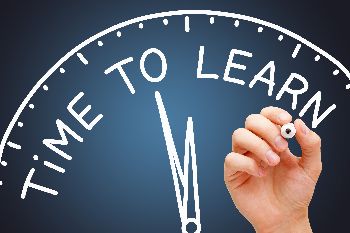 Click below to learn about upcoming training available to you in February.
Recruitment Spotlight
We have hired and are fully staffed in our Recruitment Department. We are geared up to hit the streets and recruit once we are safely able to do so. However, until then, we continue to recruit through social media and virtually to find more homes for our TFI children.
What we need from you are resources. We know getting in front of people or even talking to a small group can be uncomfortable for some, so we are here to help. All we need you to do is send us the contact information of a business, church or community group that you would like to have us contact and we will do it. We will visit with them and see what the best direction is to get the information out to their people.
So look in your contact book and think about your community leaders. If there is anybody you would like us to contact, please reach out to our recruitment supervisor, Curtis Anderson at canderson@tfifamily.org and let us know who you would like us to contact.
Take care and stay safe and healthy!
Jason Cecil
Director of Regional Recruitment
Fund Development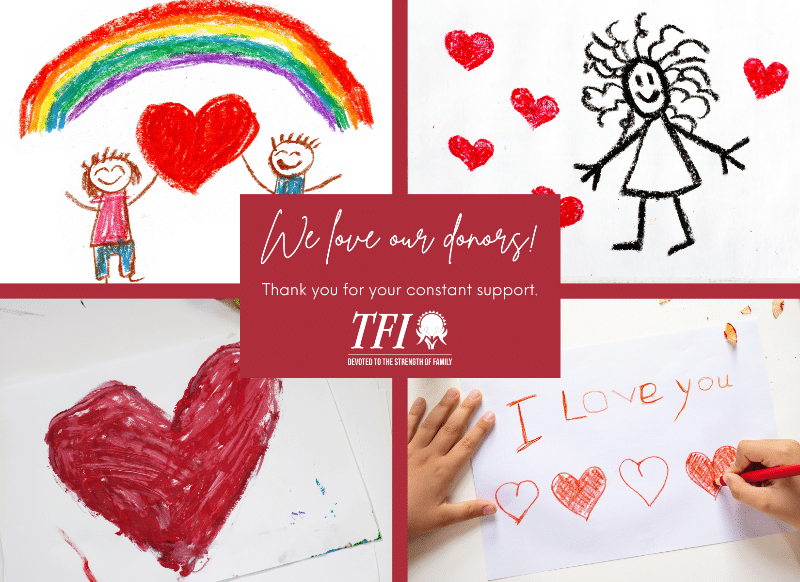 Hello and Happy Valentine's Day! February is a month that inspires us to fill every heart with love. Our volunteers, donors, foster families and staff do this every day with their passion to help children and families!
We are very excited about a new project that will be done because of this passion: a gymnasium is being built adjacent to our Pathway Family Services Residential Facility in Topeka, KS. The gym will be an amazing indoor space for the kids in care to exercise, meditate and improve their overall well-being. We've already had a generous donation from The MCP Group in Topeka to help with the funding for the new gym. We will be reaching out to more companies in our community who have an interest in helping. The gym should be completed September 2021.
Our Fund Development Team would also like to remind everyone an easy way to help children in foster care is to sign up for AmazonSmile and Dillons/Kroger Community Rewards. When you shop with these companies they give back a percentage directly to us, at no extra cost to you! It's a win win for all! If you haven't signed up, we encourage you to check the links out at the bottom of this newsletter. If you have questions, please don't hesitate to ask any of us in Fund Development.
We couldn't be more grateful for your generosity. We know that not all companies are doing well enough to give in these times. But if you know of a business that is doing well and would like to give back, TFI would love to chat with them!
Don't hesitate to reach out to us if you have any contacts, questions, or fun stories of generosity. Thanks for all you do!
Oklahoma/Texas: Steven Mandeville | 918-728-3378 | smandeville@tfifamily.org 
Kansas/Nebraska: Sheila Kearney | 785-213-6161 | skearney@tfifamily.org 
Events & Volunteer Coordinator: Libby Hayden | 785-294-6606 | ehayden@tfifamily.org Have you heard? We have an app for YOU! You can find the portal online at https://fosterfamilyportal.com/. You can also find it in the Apple App Store and on Google Play! We hope you take the time to download it today. If you have any questions about the app, please contact your foster care worker!
Thank you for opening up your hearts and homes to children in need. TFI is so grateful for your compassion and dedication to children and families. We hope you take the time to download the app today!
Happy Anniversary
Thank you for opening your hearts and homes to children in need.
19 Years
Patricia Dickerson
11 Years
Rene Appelhans
10 Years
Dan & Dianna Carson
5 Years
Roy and Suzanne Sanchez 
1 Year 
Deborah Jones
Cassandra Barkley 
Dennis & Kathy Shouse 
Joseph & Kelly Ghormley 
Walter & Karyn Eck 
Justin & Paula Bush 
Erika Furtch 
Robert & Kara Cranston
 Every time you make a purchase on Amazon, TFI Family Services can earn money and participating does NOT increase the price you pay for your purchases. Visit smile.amazon.com or click the picture above and select TFI Family Services to support youth in foster care.  Every time you make a purchase at Dillons, TFI Family Services can earn money. Please visit dillons.com/communityrewards or click the picture above and select TFI Family Services as your nonprofit to support youth in foster care.