Four colleges offer support for students from foster care
Ryanne Persinger, Tribune Staff Writer, Sep 23, 2017
Briana Drummer is a junior at Temple University. Once in foster care, she's now helping others who have also been in the system
Briana Drummer was 7-years-old when she and her four brothers were taken from her mother and placed in foster care.
Today, the siblings are all spread out. The youngest brother has two kids and lives in Utica, N.Y., one has muscular dystrophy and is in a shelter, while one resides in Camden, and another brother is in incarcerated.
Drummer's brothers bounced from home to home, but she feels fortunate to have lived in the same foster home until she was 18.
"All the different scenarios of all the things that could possibly happen in foster care or (happen to those who) have aged out sort of, kind of, happened to my brothers," said Drummer, 25. "I'm trying to help them and help other people as well."
Drummer is currently a junior psychology student at Temple University. She's one of an estimated 34 students this year at the college who have experienced foster care. Last year there were about 40 students, according to Temple. She no longer keeps in contact with her foster mother.
Temple and three other colleges have launched the initial phases of programs to help confront the issues facing students who came out of foster care or are at risk of homelessness. At Temple, the Foster Care to College program, helps to facilitate networking among former foster youth.
"Since its founding, Temple University has remained committed to broadening access to high quality education, said Temple Associate Vice President and Dean of Students Stephanie Ives, in a statement. "We seek to further enhance that mission through more intentional outreach to help attract, enroll, retain and graduate former foster youth, supporting them along the way however we can."
Approximately 70 percent of youth in foster care aspire to attend college but they attend less than half the rate of their peers and most do not make it past their first year, per statistics provided by the University of Pennsylvania's Field Center for Children's Policy, Practice and Research, an interdisciplinary center that brings together the expertise of schools across Penn (Nursing, Medicine, Law and Social Policy and Practice), along with the Children's Hospital of Philadelphia to shape policy through research and legislative reform.
Temple, Cabrini University, Community College of Philadelphia, and West Chester University are among the Field Center for Children's Policy, Practice and Research's first institutions to offer campus support programs for foster youth.
Support is offered through the Field Center, child welfare agencies, independent living and school readiness programs, financial aid agencies and governmental and non-profit organizations across the Commonwealth.
Cabrini University in Radnor offers the Building Lives of Purpose program, which offers access to year-round campus housing and its food pantry, along with outreach and support.
Meanwhile, West Chester identified 70 students during the 2016-2017 school year who were formerly in foster care, and 30 who were homeless or at-risk of being homeless. The school also offers initiatives for former foster care youth, referrals and assistance, meal plan partnerships and priority placement for work-study jobs.
Support is important to Drummer. She recalls the first day of school at Temple.
"It was so overwhelming," she said. "You're trying to get your textbooks and figure out your classes. But a day or two before, everybody's family was here and walking around campus and helping them out. We're doing this by ourselves, we don't have our families to make sure everything goes right."
Drummer first attended CCP, receiving her associates degree in psychology in May before transferring to Temple. At CCP, there were 180 students who had transitioned from foster care at the beginning of the 2016-17 academic year.
At CCP, it offers a supportive network that includes assistance in areas of financial aid, counseling, advising and other things.
"We know that the need is great and we are looking to equip campus support offices with tools, training and resources to successfully connect former foster youth within our own on — and off campus networks in a way that is coordinated and where there is follow up taking place," said David E. Thomas, associate vice president of strategic initiatives and dean, Division of Access and Community Engagement at CCP, in a statement.
"Community College of Philadelphia will lead the efforts in ensuring there is coordination between offices that our campus supporters feel well-versed in the needs and how to address them when a former or current foster youth approaches them."
While at the institution on Spring Garden Street, Drummer was a student ambassador, peer coach and started her own organization, Foster and Homeless Youth (FAHY), helping youth age 18 and older who are no longer in foster care.
She encourages people on campus to reach out to her organization on social media because she knows the struggles of trying to obtain a degree and work full time.
"I'm trying to make a whole foster care network system so that foster care kids can support each other," she said with a smile. "We know what we go through. Social workers … they try to understand but they're not in our shoes."
Drummer has been in touch with her birth mother who now lives in Florida. She says her mom, who was an alcoholic, isn't stable, but is making strides.
"I'm her support system," Drummer said. "I make sure she's Ok."
Ultimately, Drummer wants to obtain her doctorate degree, be a psychologist and own her own private practice.
"My goal is to help everyone," she said, adding, "but mostly foster kids."
Kansas News
Kansas Care Providers of the Month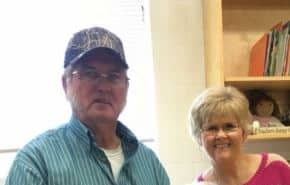 Dale and Lanna Childers have been foster parents for over 25 years. During their time as foster parents they have shown the true meaning of "Foster Hope, Foster Love, and Foster Care." Through the years they have continued to maintain contact with children that were previously in their home, they continue to provide support and advice, have made trips out of state to visit previous foster children, and most importantly of all, Dale and Lanna have given "a sense of belonging" to many youth in the foster care system.
In 1999, a young girl named Misty was placed with Dale and Lanna. Excerpts of a letter, sent by Misty four years ago reads as follows: "Any child will be loved to the fullest when placed with Dale & Lanna. Any child would be the luckiest to placed with Dale & Lanna. Any child would pray to have Dale & Lanna as parents. They are simply wonderful! I love those two very much!"
Most recently, Dale and Lanna once again guided a young woman by the name of Viriany, on her path to becoming a successful adult. Viriany has graduated high school and is now attending Community College. The Childers helped Viriany through the process of obtaining her immigration status, getting her drivers license, bought her a car, and even continue to carry Viriany on their car insurance policy. The Childers bought items that Viriany would need for her apartment at college and helped move her there. When the funds were not yet available for Viriany's books, Lanna drove 130 miles round trip to the college and paid for them to make sure Virany had everything she needed for her first day of college. Viriany maintains constant contact with Lanna and Dale, and travels "home" to visit on a regular basis. Dale and Lanna are amazing people, and I am honored to be their foster care worker!
-Sharon Burnett, LBSW
Between Families Recruitment Moment
The time has come ! The moment has arrived !
Be on the lookout for your Foster Parent Ambassador card in the next 3-4 weeks. You'll also receive a brochure that explains the program and how you can advance levels within the program. This is just another way we'd like to say thank you for all the hard work you do taking care of our TFI Kids.
We continue to grow across our states due to our Foster Family Referrals. We also have a program to thank those who may not be Foster Parents that want to refer families to TFI. If you have a family member, church friend or co-worker that really believes in Foster Care and would like to receive a stipend for referring families to TFI who become certified we can help. Please contact the Community Liaison Coordinators below to give us their information and further details.
Kansas / Nebraska – Libby Hayden ehayden@tfifamily.org
Oklahoma / Texas – Jason Grewe jgrewe@tfifamily.org
Thank you for all you do for our TFI kids and the referrals you keep submitting. Everyone try to refer just one family during the month of October and let's have our biggest month yet !

Oklahoma News
Placement Stability
Children who are in foster care and experience multiple moves are at increased risks for poor outcomes in academic achievement, socio-emotional health, developing insecure attachments, and distress due to the instability and uncertainty that comes with not having a stable family environment. Because of this, following is a reminder of the important questions to ask prior to accepting placement:
1. HOW MANY PLACEMENTS HAS THE CHILD HAD BEFORE?
2. WHAT KIND OF MEDICATION DOES THE CHILD TAKE, IF ANY? (What is the medication for? When the child arrives: when was the medication last taken?)
3. DOES THE CHILD HAVE AN IEP AND, IF SO, WHAT TYPE? WHAT GRADE IN SCHOOL IS THE CHILD?
4. WHAT TYPE OF VISITATION DOES THE CHILD HAVE (i.e. supervised, unsupervised, weekend, day pass, etc.) HOW OFTEN?
5. WHAT ARE THE CHILD'S CULTURAL AND RELIGIOUS NEEDS? (i.e. what church, if any, does the child prefer to attend?)
6. TEENAGERS: PROMISCUOUS, SMOKING, DRUG/ALCOHOL USAGE, RUNNING, PHYSICAL OR VERBAL AGGRESSION, STEALING?
7. DOES THE CHILD HAVE ANY ALLERGIES? (i.e. food allergies, medication allergies, pet allergies, asthma)
8. WHY IS THE CHILD IN CUSTODY?
9. WHAT IS THE EXPECTED LENGTH OF PLACEMENT?
10. HAS THE CHILD(REN) BEEN IN CUSTODY BEFORE? IF SO, WHY?
11. WHAT IS THE CASE PLAN GOAL (reintegration, guardianship, emancipation, and/or adoption)?
12. ALERTS: IS THE CHILD A SEXUAL OFFENDER OR FIRE STARTER?
13. BEHAVIORS TOWARD YOUNGER OR OLDER CHILDREN? EFF: 4/14 Page 13 of 40 ©TFI Family Connections LLC Foster Family Handbook (i.e. if this child is not getting along well with other children in the home, are they going to get along in my home? Is the child a threat or danger to younger children?)
14. ASK YOURSELF THIS: DO I HAVE THE BED/PERSONAL SPACE CAPACITY? IF NOT, CAN I GET AN EXCEPTION?
15. IF THE YOUTH HAS A BABY—WHO GETS VISITATION WITH THE INFANT? IS THE INFANT IN DHS CUSTODY, TOO? WHAT ASSISTANCE IS AVAILABLE TO HELP WITH THE INFANT?
16. WHY DOES THE YOUTH NEED A NEW PLACEMENT?
17. WHAT IS THE YOUTH'S CURRENT LEVEL OF CARE?
18. IS THE YOUTH APPROVED FOR SELF-CARE TIME? HOW MUCH?
Connections Compliment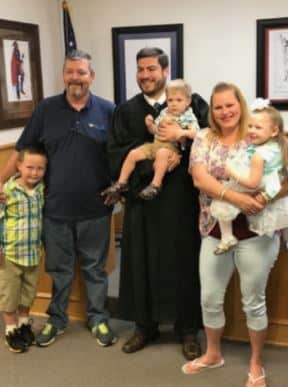 Joshua and Nicole Mize had taken placement of a sibling set of three as well as two other children with one of them being high needs. They continue to advocate for the needs of the children and ensure the children receive the needed services for their medical and mental health. Joshua and Nicole are excellent foster parents and have incorporated the children into their family and treat them as their own. They work closely with DHS and TFI to ensure all parties are notified and up to date on changes and circumstances of the children. The Mize family adopted the two younger children and have consented to adopt the sibling set to ensure all children have a safe forever home.
Texas News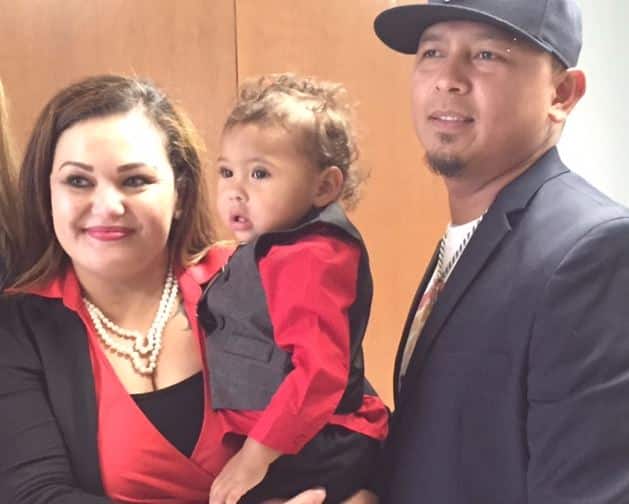 On September 20th our Baza foster home was able to add a boy to their home.
Upon becoming foster parents, D'Wuane and Veroincia Baza expressed their desire to have a boy added to their family. Although they are extremely happy with all five of their daughters, they believed a boy would round out their family and be a wonderful addition. Both Mr. and Mrs. Baza have worked with children in the past and felt it had only increased their desire to have a large family and hopefully add a boy to their family. Upon getting licensed they understood the main focus of DFPS/CPS is re-unification and they were probably going to foster a handful of children prior to being able to move forward toward adoption. They were okay with this and explained this to their children as well. When they had a baby boy named Aiden placed in their home they were excited to have him. But they went through their ups and downs while in their care as the CPS worker told them they could move toward adoption with him and they were happy to hear this news. Later they found out the mother was working services so not being able to move toward adoption and losing Aiden really hurt them. But at the end, the mother gave up her parental rights and Mr. and Mrs. Baza were ecstatic about keeping this cute and wonderful little boy as their son and their daughters all stated how happy they were to have a little brother.
Aiden's name is now De'Vinn Aiden San Agustin Baza. When you look at the pictures he looks like a Baza. De'Vinn and his dad now have the same baseball cap.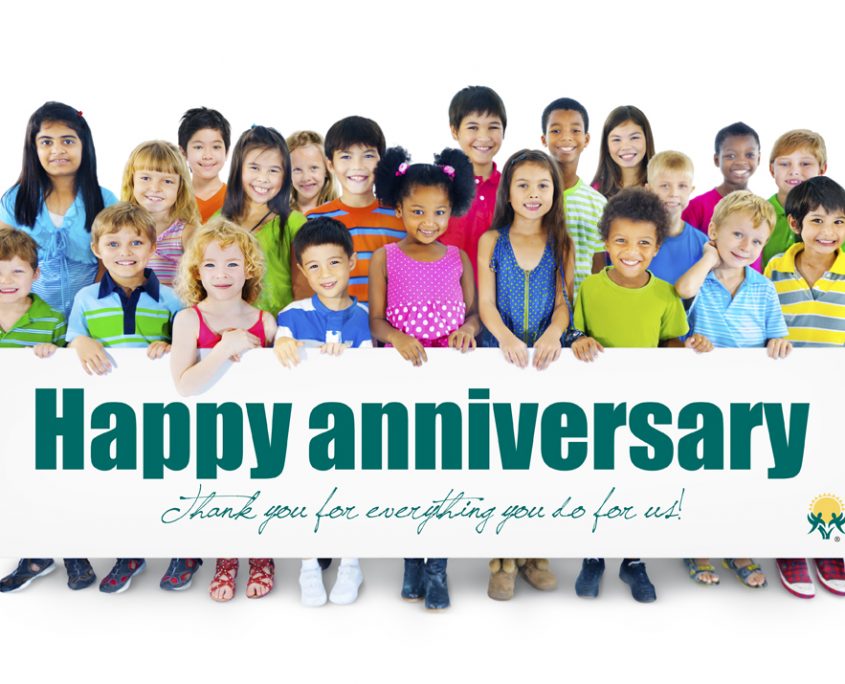 20 Years
Brian and Kim Mitchell
15 Years
Jimmy Blair and Shirley Herbison
Clifton and Betty Portley
5 Years
Cameron and Lyslie Shifflett
1 Year
Brent and Heather Brittain
Jennifer Newton
Nathan and Amanda Jones
Clara "Niki" Stark
Tyler Gilbert and Sarah Pederson
Robert Karaya and Eunice Menja
Stoney Tate and Angelia Rowland
Adam and Kristina Nofsinger
Michael and Kim Childers

Grants
TFI has the following grant funding available to assist foster children and foster families. Please speak with your foster care worker for more information:
Pritchett Trust: Funds available to foster children placed in Crawford County, KS for the purchase of musical instruments and music lessons.
October Training
Food Hoarding
*What is food hoarding?
-Symptoms of food hoarding include a large accumulation of objects that prevent the use of space for necessary or usual human functions. This imbalance causes undesirable conditions that impede human functioning and can cause distress.
Those who hoard, typically fall into two categories: those who are in fear or those who hoard out of nostalgia. Often times, ADD, OCD, Anxiety, and Depression are diagnoses that co-exists with hoarding. Hoarding can also be a sign of fear or away to "block the outside world."
*When does food hoarding become a problem for a youth?
If your child can't get out of their room or you can't get in.
If your child is hoarding things that can be harmful.
If your child's hoard of papers sits up against a heater or otherwise creates risks.
Behaviors of children with food hoarding may include, refusal to throw away food, hiding food under their beds or in closets, or over-eating.
In the child's mind, food hoarding is all about SURVIVAL! Not having his or her needs met as a youth will cause the child to have pre-mature self-reliance in effort of ensuring he or she has the necessary needs to help survive. The child will likely have a heightened survival instinct related to food. In fact, studies have indicated that children who hoard food, often have abnormally high stress levels. Instability in foster care or multiple moves is a risk factor and can cause this stress to increase dramatically for the child. Most children diagnosed with Reactive Attachment Disorder have a history of hoarding food.
*How can you help?
Remember, the issues is not the food. Try to understand the causes and reasoning behind the actual behavior.
Stick to a predictable routine for meals and snacks.
Don't yell, threaten, punish, withhold, or reward with food.
Don't lock food up in kitchen cabinets.
Let your child carry a snack in their backpack.
Keep fruit or healthy snacks available at all times.
Don't eat off your child's plate, even if they are finished.
If the child is a picky eater or constantly wanting to eat junk food, have him or her help prepare a health meal. Allow them to have their own food cabinet of healthy snacks. Last but not least, if a child becomes upset regarding his or her food hoarding, stay calm and help the child get through the issue. It will get better!
Questions
What is the definition of food hoarding?
What are two diagnoses that often co-exist with a child who is a food hoarder? 1.______________ 2._________________
In a child's mind, food hoarding is all about ____________.
Often times, what are two behaviors of children who have a food hoarding history? 1.______________ 2._________________
Multiple moves for a child or instability in foster care can positively influence a child with a history of food hoarding.

True
False

List three ways you can help a child who has a history of food hoarding. 1.______________ 2._________________ 3._________________