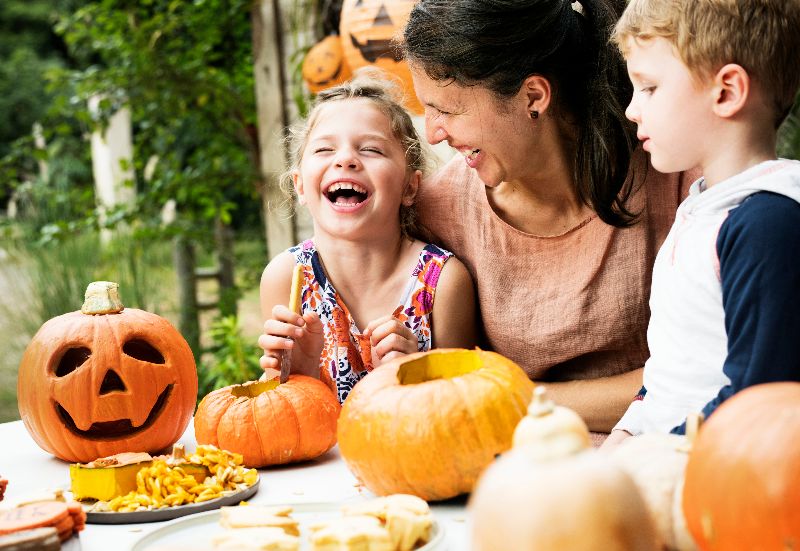 13 Fall Family Activities Safe from COVID-19
Fall is in the air! The days are getting shorter, the leaves are starting to turn, and the weather is becoming crisper. This year, many autumn traditions like apple picking, hay mazes and harvest fairs are postponed or reimagined due to the pandemic. But that should not stop families from having healthy fun! We put together a list of safe activities to enjoy this season.
With all activities it is recommended you call the venue before you go and ask when the best time is to visit to avoid the crowds. Keep distanced from other visitors, bring your masks, hand sanitizer and sense of adventure! Happy fall!
Pick pumpkins and carve jack-o'-lanterns — This is a great tradition that you and your family can still enjoy! Check in with your local pumpkin patch to find out more about the COVID-19 policies.
Explore a Farm — Discover a hidden gem close to home! Some farms are still allowing visitors to tour their farms and pick crops.
Leaf picking — Research a photo of different types of leaves in your area. Go in your backyard or to a park and try to find them all! Make a leaf pile and go ahead and jump right in it. Bring some leaves home and color or craft with them; the creative fun you can do with leaves is endless!
Scavenger hunt — Come up with a list of favorite items that reflect the season. Go outside and see if family members can find them all.
Nature hike — With all of the beautiful autumn leaves, hiking will sure to please. Don't forget to bring water and snacks!
Bake fall-inspired treats — Use the fresh apples you picked or buy pumpkin puree from the store. Baking is fun for all ages and autumn treats are especially delicious.
Help others — There are so many ways to help others.Make cards for local seniors or residents at a local nursing home.

Clean out your bookcases and donate books to your library or other literacy organization.
Organize your pantry and have each family member choose some canned food to donate to your local food pantry. Be sure to check that the expiration dates aren't sometime soon. Pro tip: Many pantries are in dire need of toiletries. Donations of toilet paper are accepted and highly appreciated!
Contact your senior center and see if you can become pen pals with a senior citizen.

Have a picnic — Fall offers beautiful weather to enjoy a snack or meal outside with your family. Liven up the picnic with a game of Frisbee!
Plant tulips bulbs for the springtime — Everyone can help plant and take care of the tulip bulbs, and fall is the perfect time of year to plant them in the ground. Then watch closely for them in early spring as the bulbs push their way from the ground and start to bud — always a thrill for little ones to see!
Foliage drive — A great way to get your family out of the house is to go on a drive near the woods. The views should be spectacular in October and early November.
Create fall decorations — Have a crafting day or evening. Research online or talk with your neighbors to come up with some creative ways to beautify the neighborhood.
Game night marathon — Dedicate a night to playing board games! You can play spooky games to get in the Halloween spirit without ever leaving your living room. Put some hot chocolate on the stove, play some favorite tunes and you have a fun, easy, educational, cozy family night.
Create a fall family book club — Choose a book everyone in the family might enjoy and pick a date to discuss it. The book can be themed for the season to get you in the autumn spirit.
What are you doing for safe, family-fun this season?
---
TFI Foster Family Portal
Have you heard? We have an app for YOU! You can find the portal online at https://fosterfamilyportal.com/. You can also find it in the Apple App Store and on Google Play! We hope you take the time to download it today. If you have any questions about the app, please contact your foster care worker!
Thank you for opening up your hearts and homes to children in need. TFI is so grateful for your compassion and dedication to children and families.
---
Kansas Care Provider of the Month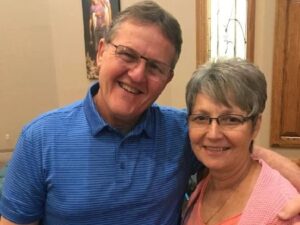 Sherri and Kenneth Howey have been a licensed foster home through TFI for two years. However, this family has grown tremendously and are very proactive. The family strives to keep teens and young children within their communities while providing a safe and loving home. The Howeys are very dependable and foster tough teens with ease. They are very active, loving and welcoming. The Howeys are always open to take children regardless of their background. The Howeys have shown to be a positive influence and devoted to helping children recover from trauma. Thank you, Sherri and Kenneth! We appreciate your dedication.
---
Oklahoma Care Provider of the Month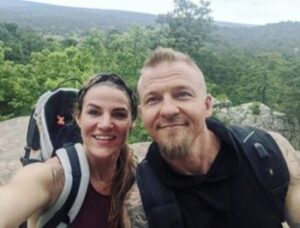 Congratulations to Johnny and Aubrey Kelsey for being named Oklahoma care provider of the month! Johnny and Aubrey considered becoming foster parents for three years before they took the leap to get certified. They have been a TFI licensed foster home since January 2020. In a short period of time, this family has shown their love and passion for helping children in their care. Johnny and Aubrey are truly devoted to children placed in their home. They have gone above and beyond to ensure their current foster child's needs are met by getting him started in services improve his quality of life. Johnny and Aubrey go out of their way to make children placed in their home feel welcomed and part of their family. Thank you, Johnny and Aubrey, for all you do for Oklahoma's foster children.
Oklahoma News
Welcome to TFI, Karen Webb

! Here is a blurb from our new staff member!
Hello everyone! My name is Karen Webb, and I am excited to join TFI as a Foster Care Worker. I have heard amazing things about the agency, and I am looking forward to jumping right in with both feet.
I grew up in a small town in Oklahoma, and I have experience working with DHS, childcare services, education services, and more. I am engaged, and have two children of my own (a 15-year-old daughter and an 11-year-old son). I also have two bonus daughters who are 13 and 12 years old. The most important things to me are my family, my career, and helping others in any way I can. I look forward to meeting many more of you in the future, and I am thankful to be a part of such a rewarding endeavor. God bless!
---
Texas Care Provider of the Month
Congrats to the Hargrove family for being the Texas Care Provider of the Month! You can see Mr. and Mrs. Hargrove's dedication, commitment, and sacrifice to the children placed in their care. In addition to being great foster parents, the Hargrove's are raising a family which is an example of making a positive difference and contribution to the safety and well-being of children in foster care. The Hargrove family have a love for children and will mold foster children into good citizens. Thank you to the Hargrove's! We are so happy you are part of the TFI family.
Texas News
This fall is an exciting time in TFI Texas! Our Denton office has added two new cases managers to serve our growing number of foster families. They bring a wealth of experience in social work and child welfare to our program. We are so excited to have them join us. TFI Texas continues to reach out to the Kinship families caring for vulnerable children in the Wichita Falls, Abilene, and Brownwood areas. The families are being provided with the opportunity to become verified foster care providers for the relative or kinship children who have been placed in their homes. This is a great opportunity for these families and for TFI Texas! Believe it or not, preparations are already starting for Christmas for our foster children. Watch this space for news about how you can help!
---
Training Corner
How to Help Kids with Disappointment
There is no doubt that children are dealing with disappointment during this time of COVID-19. Anywhere from cancelled summer camps to in-person classes, birthday parties and much more. It can also be equally disappointing for caregivers to see their children experience such disappointments. We as caregivers can take this time to acknowledge that our children have every right to be disappointed,  teach them that these times are not forever and take this opportunity to help our children and ourselves learn resilience and how to deal with disappointments in life.
Read the article below, fill out the quiz and send to your worker for credit. 
---
Recruitment Spotlight
The Quest to 700 has begun! TFI is working diligently to increase our foster home base to 700 homes by the end of March 2021. To do this, we need you!
Our foster parents are our best recruiters! Historically, our TFI foster families account for more than 30% of our new family referrals. Now more then ever during this pandemic we need you to share your stories. Talk with your family, friends, church members and others that you know and let them hear about your experience and that kids still need homes during this time.
Many of you have referred homes to us and now we are challenging the rest of you to refer ONE, just one family to TFI that becomes a licensed home. Not only will you provide a child a home during the upcoming holiday, you will earn a sweet $500 referral incentive for referring the family who becomes licensed.
Thank you for all you do and taking care of our kids during these crazy times. We appreciate you and look forward to accomplishing this goal with you.
Jason Cecil
Director of Regional Recruitment
---
Fund Development
Fall is here!
We wanted to report back – we were so pleased with the support from our back-to-school campaign! We were able to purchase hundreds of dollars' worth of school supplies for TFI kids and can't thank you enough.
Our team has been busy this month. We just had our annual Golf Ball Drop! Thanks to those of you who participated, money will go towards buying Christmas gifts for the children we serve. We were able to raise more than $16,000 to go towards Christmas presents for the children in our care! Be on the lookout, we're looking at putting together a "Black Friday/Cyber Monday" silent auction to do some of your Christmas shopping with us too. This money will also go towards Christmas gifts for the kids we serve.
Contact us if you have any questions. Please email us at donations@tfifamily.org. Thanks for all you do!
---
Happy Anniversary
Thank you for opening your hearts and homes to children in need.
11 Years
Dal & Jody Wagner
10 Years
Murdice Sims
Chevella Portley
5 Years
David & Denise Lewis
Duane & Robin Rieschick
1 Year 
Jacob & Tabitha Stivers
Patrick & Angela Brazeal
Thurman & Jamie Lynch
Jonathan & Kirsten Whitacre
Shane & Morgan Crabtree
Rebecca Applebee
Kyle & Lauren Williamson
Wayne & Izabel Gray
Christopher & Kelsey Ryder
Michelle Garner
Grant & Julie Dawkins
---
Every time you make a purchase on Amazon, TFI Family Services can earn money and participating does NOT increase the price you pay for your purchases. Visit smile.amazon.com or click the picture above and select TFI Family Services to support youth in foster care. Every time you make a purchase at Dillons, TFI Family Services can earn money. Please visit dillons.com/communityrewards or click the picture above and select TFI Family Services as your nonprofit to support youth in foster care.