Cowboys Who Care Ranch Rodeo draws more than $10,000 in donations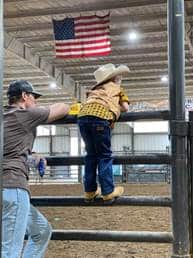 (Kellyville, OK) – TFI Oklahoma and Crooked Bar Ranch hosted the inaugural Cowboys Who Care Ranch Rodeo on Saturday, June 5 at the Creek County Fairgrounds. The family event raised money to benefit local children in foster care and had more than $10,000 in donations and sponsorships from the community.
The 700+ attendees were treated to plenty of fun-filled festivities, including shopping and a vendor fair, food trucks, raffle prizes, door prizes, a cornhole tournament and kid's games. The day was capped off by a thrilling rodeo and a live musical performance featuring the Roy Weathers Band.
"We are so happy with the turnout, especially with this being the first rodeo we've hosted," TFI CEO & President Michael Patrick said. "We were able to raise money for local youth in foster care, while building new partnerships in Oklahoma we are excited to continue working with in the future."
The featured event of the day saw the team Stray W Ranch win the inaugural rodeo championship that included a cash prize of $1,800. The victorious trio included locals Ethan Whitehouse (Sapulpa, OK / Sapulpa HS), Sam Kidwell (Bristow, OK / Bristow HS) and Branden Shelton (Bristow, OK / Bristow HS). The Simy White Cattle Co. team finished in the runner-up position, while Karter White Cattle Co. ended in third place.
There was also a boot scramble for the kids during the evening session, and the young winner donated his $20 prize back to TFI because he said he wanted to help the foster kids.
The two-person, double-elimination cornhole tournament earlier in the day was won by Eagle Ops, who ran the table en route to the championship. The team included Jason Strickland (Collinsville, OK) and former marine Johnathon Shepherd (Owasso, OK). We So Corny took second place and Men At Work finished in third.
While the first annual Cowboys Who Care Ranch Rodeo has concluded, you can still help Oklahoma children in foster care. Children are placed in foster care at no fault of their own and are almost always in need of a temporary, loving place to call home. To learn more about how you can become a foster parent, please call us at 833-7FOSTER or visit us at www.tfifamily.org. If you are unable to open your home to a child in need, but still want to help, please visit us at www.tfikidsfund.org.
To learn more about the Cowboys Who Care Ranch Rodeo, please visit us online at www.tfifamily.org/rodeo/.
[vc_single_image image="22963″ img_size="full"]
[vc_single_image image="22964″ img_size="307×204″]
[vc_single_image image="22965″ img_size="307×204″]
TFI is a leading child welfare agency providing experience, compassion, quality services and care. We provide various types of services in the community and have over 50 years of experience in providing child welfare services including foster care services, group home care, case management, independent living, psychiatric residential treatment center, behavioral health, adoption services, visitation services, and aftercare services.